Welcome!

Welcome to Promotional Canada Promotional Canada has been established to help you take advantage of the latest and greatest trends in corporate gifts. From promotional apparel, to promotional watches, from promotional bags to promotional golf items there are tons of options to choose from.

We have attempted to make the site as easy to use as possible. To the left there is a menu with the most common promotional gifts in Canada. The product categories that are the most popular have been divided into different price points so you can search by item, product, and budget.

If you can't find what you are looking for in the categories, you can search with keywords in the "quick search" box in the top left right below the logo, or you can click on the "advanced search" text right under the quick search and refine your search by theme, category, budget range and more.

We try hard to offer the best selection of promotional products in Canada, but if you can't find what you're looking for, please don't hesitate to get in touch with us and we will be happy to do the sourcing for you.

Please start your search by clicking on one of the menu bars to the left.

Promotional products are one of the most effective tools to entice your clients to buy your products and services. No matter what is happening in your marketplace, people are buying products and services like yours. One of the most effective ways to drive sales is to advertise, and promotional products are one of the most effective mediums for advertising. Every market is different, but there are several simple steps you can take to make your promotional message more effective.

#1 – Determine your message, and how that can effectively be conveyed through the use of promotional products.
1. Where and how will the promotional product be used?
2. What are some of the key demographic factors of the recipients? (age, income, location, etc.)
3. How does your product resonate with your target market?
It is crucial to know what you are trying to accomplish with the promotional product you are distributing prior to implementing a promotional campaign.

#2 – Do a little research

1. Go to trade shows, ask your suppliers or sales reps, and generally keep an eye out for how others are effectively matching promotions with their company message.

2. Ask internally: what has worked in the past? Are clients still talking about that great promotion you had 3 years ago?

#3 – Get creative with your promotional item, but bear in mind there is a reason there are so many promotional t-shirts in the marketplace.

1. The top categories of promotional gifts are apparel (31%), writing instruments (10%), bags (7%), drinkware (6%), desk / office / business accessories (6%), calendars (5%), and awards (4%).

2. Keep functionality in mind. The objective of the promotional item is for the recipient to keep it, so you get many brand exposures over time. Almost everyone uses pens, wears t shirts, has a computer, and at some point uses a bag. Keep those thoughts in mind.

3. What about the season? Giving out sunscreen in the middle of a cold winter can be effective if you are promoting a warm destination, but not great if all it does is remind people there are 12 weeks of snow ahead of them.

#4 – Does the form of distribution impact the type of product you are giving out?

1. If your recipients are traveling to a conference or meeting, you have to bear in mind the fact that whatever you are giving them has to travel with them. There are restrictions on carry-on luggage, liquids, and sharp objects. And don't forget if it's something big or bulky, it may actually cost them money to ship it home. That's not a great way to leave a positive impression on people.

2. Where is your event? Can local suppliers be used for heavy or bulk items? Promotional stainless steel water bottles are a perfect example. They are big and bulky, but have a great lasting impact. If you are doing a nationwide program, bear in mind the cost to ship the promotional gifts may actually be more than the cost of the gift itself.

3. Are you utilizing other promotional materials or collateral? Perhaps trying a promotional usb drive can help reduce production and shipping costs. Reducing waste is high on everyone's agenda, so why not help yourself and the earth at the same time?

Taking all these factors into account will help you get the best value for your dollar, and make your recipients come back for more.

Thanks for taking the time and we look forward to working with you!
Featured Item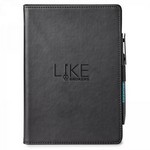 Donald Portfolio Combo
The Donald portfolio journal hits all the right notes. With vibrant cover colors, black felt lining, slots for 5 cards and a document slot, it's the perfect meeting accessory. Donald comes with a G125...